There aren't many companies in the hunting industry today that can claim a 63 year history. One that recently passed that mark is Buck Stop® Lure Company, a family-owned firm based in Stanton, Michigan. What does it take for a brand to stay on store shelves for a half a century? It helps if you're one of the leaders in your category, something Buck Stop has been since Don Garbow got the idea of selling concentrated apple scent to hunters who might be tired of lugging in bushel baskets and sacks of the real thing.
"I started this business on a $20 bill, right out of high school," Don Garbow said. He launched his business in 1953 using an abandoned chicken coop on the family farm in Trufant, Michigan. Both my brother and I had a chance to take over the farm, but I never thought about it. It was a big farm for those days, 296 acres, and there was a lot of work on it. I guess that's the reason I'm not a farmer today. There was just so much darn work to do for what came out of it."
When he wasn't doing chores on the farm, Garbow helped his father trap muskrats and other furbearers in the surrounding swamps. "I started trapping when I was so young I wasn't strong enough to set my own traps. My dad set the traps for us, and every third set was mine."
It was fun for a youngster to figure out where the muskrats were swimming under the ice, or how to convince a wary fox to step into a trap as it dug in a bank for a bit of buried meat. When Garbow was in high school, trapping gave him plenty of spending money. "Back then, fur prices were probably as high as they are today." And a dollar was worth a lot more.
Garbow also hunted as a youth. Deer were far scarcer in the 50s than now, and his dad would take bushels of apples with him when heading up to the Northport, Michigan area to hunt deer. "I thought, gosh. Rather than having to carry bushels of apples, it might be better to have a liquid scent to take up there that smelled like apples. That was my first product, an apple scent."
While the sex scents Buck Stop sells to deer hunters are based on natural urines and glandular secretions, from the start its concentrated food scents have had chemical components. The chemical compounds that mimicked food smells were available to companies that wanted to use them in craft items like candles or in food preparation. Far more concentrated than any natural food lure Garbow could think of, the apple scent he developed was also stable: It could be stored and packaged and spend months on a store shelf without spoilage.
Part of that first $20 bought Garbow a list of 900 Pennsylvania sporting goods retailers, and covered the pennies on postage it cost to mail them query cards. "We got postcards back, ordering a dozen apple, or two dozen apple. "When customers bought the products, dealers reordered, if not that season, then the next.
The experience he had as a trapper led Garbow to introduce trapping lures attractive to mink, muskrats, fox, beaver, bobcats, coyotes and wolves. His young company also introduced scents that dog owners could use to train their four-footed friends to follow and retrieve pheasant, quail, rabbit, duck and partridge. (Today you'll find these natural scents in the Trailmaster line, along with canvas-covered dummies, whistles and complete training kits.)
By his third year in business, Garbow had begun bottling deer urine hunters could use around their stands and on their boots. The concept wasn't unknown to serious hunters, who sometimes saved the urine from deer they had killed. Garbow priced his Gland-U-Lure initially to retail for a dollar. He figured hunters would be willing to spend a buck to help get a buck. And he saw a neat connection in that the word "buck" for money came into use because it was the amount of money a deerskin was worth in pioneer days.
Like many of the dealers he has sold to over the decades, Garbow had to hold down a second job to make his dream of building a business in the shooting sports become a reality. From the start, Garbow kept investing what sale proceeds he had back in the company. His job as an on-foot letter carrier with the Post Office paid the bills, and after he was married his young children became his work force, another concept small retailers are familiar with. "I started working summers in the third or fourth grade," Bonnie Johansen told me. "Actually, I started younger than that," the vice-president said. "I can remember watching cartoons when we had an insect repellant, and Dad would come up from the basement and haul me downstairs so I could stir it for him."
In 2005 Don Garbow was inducted into the Bow Hunter's Hall of Fame.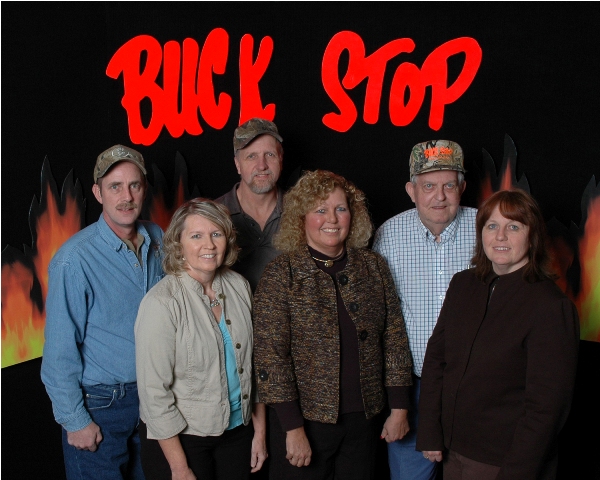 The Buck Stop Family, left to right Brian Johansen Owner, Bonnie Johansen Owner, Dan Phenix General Manger, Dawn Phenix-Stoll, Don Garbow Founder (retired) Phyllis Shilling